Children's Classes
Are available for children from 4 years old upwards. If your child is 2.5-4years we also offer under 5 sessions.
All classes work towards recognised British Gymnastics Awards, giving the opportunity to learn skills and moves in the trampolines including shapes, landings, twists and somersaults.
Trampolining helps with balance, coordination and increasing self confidence.
North staffs trampolining is amazing. Jenny and the rest of the coaches are amazing and help so much with my confidence, my level has risen from all the support of the coaches and the competitions that I've done. I'm now level 11 and began at level 7. I'm hoping to proceed in trampolining because when I'm there I get a nice feeling that I'm being looked after.
Trampolining also inspires me in all the sport I do because it keeps me fit and healthy so I'm not always tired when doing other sports. Thank you so so much
Adult Classes
Provide a fun way to improve cardiovascular fitness, improve muscle tone, whilst learning new skills.

You can start with a taster session where you will learn the basic skills, then can work towards recognised British Gymnastics Awards where skills get progressively harder.

Our classes tend to have both adults and children in allowing the opportunity to participate alongside your child. Alternatively we offer 1:1 sessions if you wish for a private class.
British Gymnastic says: "You can get involved in adult gymnastics at any age from eighteenup – even if you've never done anything like this before. Adult gymnastics provides a newopportunity to try out an amazing sport. Whether you're looking to take your first steps ingymnastics or get back into the sport. There's a big social element, which makes the sessionsa lot of fun"
Under 5s
We have added these sessions to be able to offer children from 2.5 years the chance to take part in trampolining. 

Trampolining can be a valuable tool for learning how to listen to instructions, improve concentration, balance/co-ordination and taking turns. We offer
20 minute one to one – you have your own coach and trampoline. The cost is £10 taster, then £42 a month
Learning Disabilities
Trampolining can be both stimulating and relaxing for participants with learning difficulties, assisting with development of co-ordination and life skills.

The coaching can be adapted to the ability of the participant whilst working in line with British Gymnastics Award Scheme, this will aid structured progression.

Various sessions are available according to the individual needs of the participant.
Hi Jenny. I just wanted to take a moment to say, what an amazing team jump 2 it are. I am very grateful to you all and I can not express enough how delighted I am with the work, Kirsty and Nadine do with Harry. Not only is he learning, listening and interacting but he's enjoying every minute of it. Thank you.
Natalie, parent.
Physical Disabilities
Trampolining offers a wide variety of sensations and aids muscle relaxation, develops fitness, improves muscle tone, balance and co-ordination – all whilst being great fun. It also has a positive impact on helping the body to function.

Coaching is tailored to meet the specific requirements of individuals. A hoist is available at certain venues if required.
Competitive (Squad) Training
Is available for those who have gained their confidence in trampolining and wish to train further and progress to a higher level.

This allows the opportunity to compete in competitions at a regional level. We have a strong squad who have had great success at invitational and regional levels. They show great promise for the future.
1:1 Coaching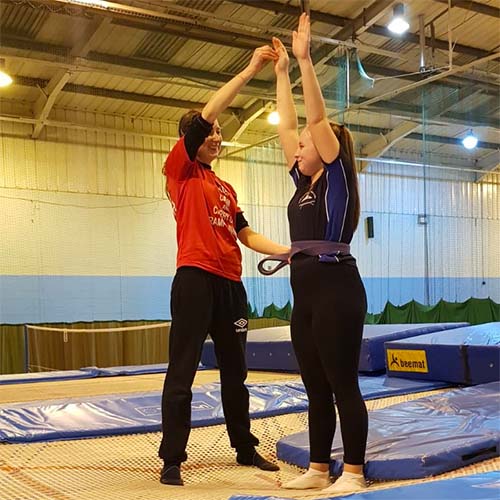 Is available if required, to help improving performance or to provide a session of rebound therapy. You get your own coach and trampoline, providing extensive coaching and a high intensity workout. All can be catered for and tailored to suit your needs. We also offer 1:1s for children from 2.5-4 years.

1:1 sessions are 20 minutes and you will have your own coach and trampoline throughout.

These sessions can be weekly, in the holidays or on request. 1:1s are ideal for
Providing focus on your child/client to help them to learn and development in a 1:1 environment
If you child/client needs someone on with them throughout the session
Focusing on a certain move if struggling with
If the individual struggles with waiting or needs a quieter environment.
Needs hoisting onto the trampoline and a short burst of activity
On Arrival
You should arrive 5-10 minutes early to allow for the consent form to be completed and to perform an on-the-floor warmup, which should be done prior to sessions using the 'warm yourself up' sheet.

Please pay the initial £10 session fee to the coach on duty. After this, sessions are paid monthly.
What Will Happen in the Session
Typically a session consists of a short warm up on the trampoline, working on basic moves to lead into the moves which will be working on whether on a badge or for a specific move the 1:1 has been requested for. May also include game on the trampoline, floor cool down and conditioning if appropriate. The session will be adapted to the participants' requirements.

For Physical Disabilities a hoist is available at the Wallace Centre, do need to have their own sling. We have a weekly programme using a variety of toys and equipment to encourage interaction and enjoyment on the Trampoline. For other mobility needs please contact us to discuss your needs.
Birthday Parties
Providing a fantastic and fun opportunity to introduce your child and their friends to a new and exciting sport. All the basic moves are covered along with games on the trampoline to provide further enjoyment. Please contact us for our party pack which includes full information.
Venue: The Wallace Centre, Stoke On Trent, ST2 8DU
Sunday 12-2pm & 2-4pm, or please enquire for other possible venues/days & times and will see if we can accommodate
£120 up to 16 children, can cater for more on request (4yrs +, adults welcome)
1 ½ hr of Trampolining activity and games
2 Coaches, 4 trampolines
½ hr for food, bring your own with a small eating area provided for after the activity
Certificate for every child participating
Birthday present of a party t-shirt for the birthday child
My daughter was after something different for her birthday party, I knew about trampolining parties from attending trampolining classes so I suggested this to my daughter who thought this was a brilliant idea, so we booked a party.

Wow! What a party! The coaches were really friendly and it was well organised. To make my daughter feel special they had organised for a special birthday t-shirt for her to wear and they and they decorated the trampolines with birthday banners and balloons.

The children don't need any previous trampolining experience as the party is aimed at all skill levels and from our experience the boys loved it just as much as the girls.

I would really recommend them, and my other daughter has asked for a trampolining party for her birthday!
Donna, parent.
Group Bookings
To suit your requirements, please enquire for more details. These can be for a one off session or for multiple weeks. We have provided for schools, colleges, day services, scout & brownie groups and other sports groups.
Taster Sessions
Come and get to know us at Jump 2 It Coaching and North Staffordshire Trampolining.

We run taster sessions to meet some of the team, and to see how much you're going to love coming back to us! A taster session starts much the same as our usual sessions.

The information below provides a quick rundown of what will happen on the day.
On Arrival
Consent form: You will be completed online prior to the session. It is very important to have read the code of practise as highlights all rules you need to abide by. If your child is under 8 you will need to stay and stand with your child for safety reasons.
Please give £4.50 (1hr) or £7 (1.5hr) cash to the coach on duty for the taster session.
Up to Date Information
Team App: Please download 'Team app' and join the 'Jump 2 It Coaching' team. This is where we post information in regards to payment, cancellations, kit orders, holiday courses and club social. This is always kept up to date with what is going on.
Facebook: Please feel free to like our Facebook page 'Jump 2 It Coaching' and join our group page 'Jump 2 It Coaching and North staffs Trampolining'.
What Will Happen in the First Session
A floor warm up: A gentle warmup to get going. Please wear trainers for this.
On the Trampoline: A coach will start with your child for two attempts to show them what to do. If your child is under 8 please stand by the trampoline with them. The coach will then move round trampoline, so your child can practise what they have learnt with input. Each attempt is a minute and a half – a buzzers sounds when it is time to change over. In the first session your child should cover the basic moves of jumping and stopping, tuck, stars, straddles, ½ twists and seat landings. Progress permitting they may also do pike jumps, back bounces and linking moves.
To finish: We play a different game on the trampoline each week followed by a cool down on the floor.
End of Session
Please come speak to a coach before you leave so we can get some feedback on the session and to discuss future sessions. If your child would like to come back, they will start on an award and will work towards achieving a badge and certificate which can be bought for £3 when completed. Moves start off easy and get harder as you progress.
Payment (Chesterton, Wallace & Congleton)
The Head Coach Jenny will send you a text message with payment amount due and details for future months. Please join Team app (as above) to see the calendar and dates for payments.
Thank you for your interest in a taster session. We hope your child(ren) enjoy it!
Weekly Sessions
Please refer to the information on taster sessions if never been before.

Every week we do a floor warm up, on the trampoline warm up, coached & practised goes, floor exercises, game on the trampoline & floor cool down.

We use a buzzer which goes off every minute and a half to ensure everyone has the same trampoline time.

Everyone works towards the British Gymnastics Awards scheme offering structured progression and the choice to purchase badges & certificates on completion of each level.

If you wish to discuss your child's progression at any point, if you child wishes to progress or is struggling with a particular move, a 1:1 session may be beneficial.

If you are interested in your child becoming part of the squad or training more please feel free to contact Jenny.
Holiday Sessions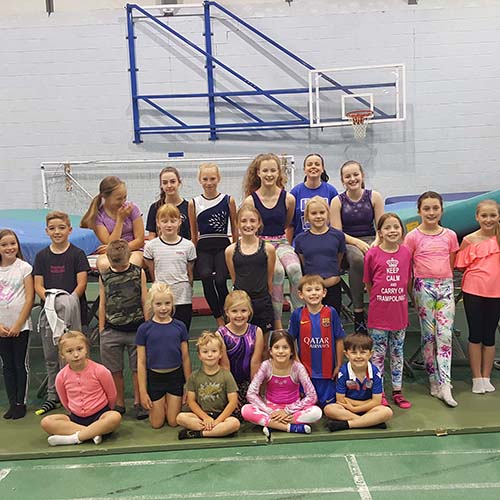 1:1 Tuition
1:1 tuition is available at several of our venues in the holidays – our timetable shows general information, but please message to enquire for specific details.
---
Holiday Day Courses
These classes are available at various venues from 9.30am-3.00pm, priced at £22.
Please wear trainers for the floor warm up. You should provide a packed lunch with plenty of drink. The day involves warming up, drinks and lunch break, learning of moves on the trampoline, working on badges, games on and off the trampoline and a cool down.
In the first part of the session your child will cover the basic moves involved in jumping and stopping as well as tucks, stars, straddles, ½ twists and seat landings. Time permitting they may also do pike jumps, back bounces and linking moves.

For those who have been before we will make this harder according to the badge they're on.

After this everyone will work on the British Gymnastic Award Scheme to work towards their first badge and certificate. The aim is to try achieve three or more moves in a day. If they complete a new level, a slip will be issued. Should you wish, a certificate and badge can be bought for £3.
On Arrival
Consent form: You will be given on the day to complete. Please read through our code of practise and tick box to confirm you've read it.
If you've attended before, please provide the coach with an emergency contact number for the day.
Please ensure prompt collection at 3.00pm
To be kept informed about future courses or weekly sessions please feel free to like our Facebook page
---
Holiday Disability Sessions
Jump 2 It Coaching is part of the Aiming High Programme provided by Action for Children for children supporting children with learning and physical disabilities, to access session under the support of their staff, giving the parents the opportunity for a short break.

These are currently available on Sundays or in the holidays

In order to attend, you first need to enrol in the programme and have an assessment. For further information please view https://services.actionforchildren.org.uk/stoke-aiming-high/ or contact 01782 683190.
Annual Outings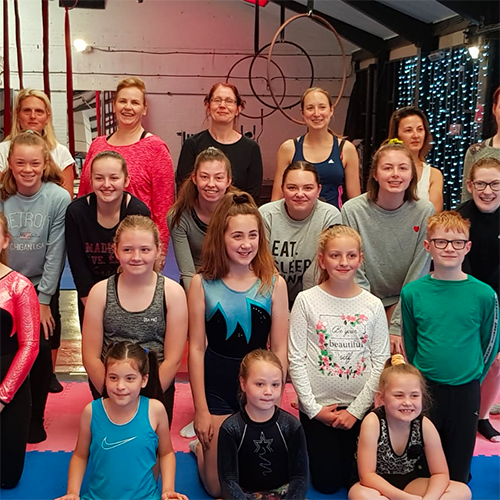 All Information for the below events is handed out in sessions, put up on Facebook and Team App (where specific club information and updates are issued).
Club Outings
These give everyone the opportunity to come together and experience different activities on offer in the local area.
This typically happens in January. Past activities have included Ninja Warrior, trampoline parks, inflatable obstacle courses, climbing walls and skating parties.
Squad Outings
These allow the squad members who train week on week out to be rewarded for their effort and hard work, but with a focus on further improving their fitness. These typically happen in July. Past activities have included a yoga class, pole dancing and aerial arts session.
Club Competition
We hold this event annually and typically happens in May.
The competition is open to children, adults & those with disabilities. A 10 bounce routine is performed in front of judges & scored.
Participants will receive certificates for taking part and trophies will be given for 1st , 2nd and 3rd.

Everyone is also placed into a team and the scores of all routines will be added together to see which team wins, medals will be given for the team finishing in 1st.
Everyone is invited to enter regardless of age or abilitiy. It's a great opportunity to be part of the clubs annual competition; a chance to show parents and relatives what you can do and have a fun filled experience in a supportive team environment.

We make it as friendly as possible and encourage everyone to have a go, with squad members leading teams to help guide the way.

Family and friends are welcome to give support and support the club. There's a small entry fee of £1. Due to limited capacity in the sports hall please include spectator numbers on entry.
There are refreshments and a merchandise stall (including leotards, trampolining shoes, etc). We hope to have photography on site at all events.

Competition attire is leotard or plain/club t-shirt, plain shorts, white socks or trampolining shoes and hair in a bun. Leotards are available for sale on the day – or you can request to see the selection available prior to the competition.

Please note there are NO chairs available at the venue so please bring your own.

If possible, please also bring your travel mug to help us be more environmentally friendly.
Celebration Parties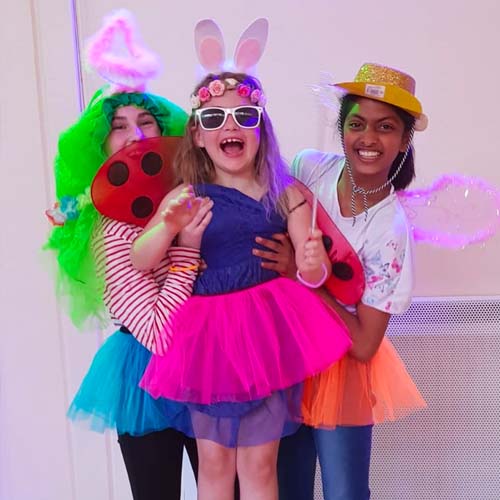 This is another opportunity for everyone to come together at the end of the year to celebrate the clubs achievements, we do have some awards presented at this event for participants who have contributed to the club through this year, this happens annually typically in July. The event comprises of games, awards, a shared buffet and disco.